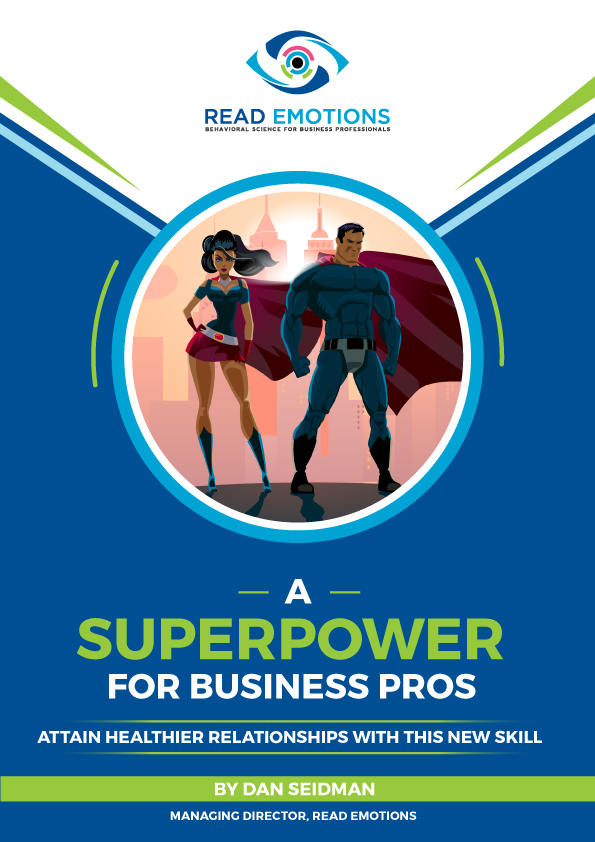 This is a phenomenal new skill
The Read Emotions training experience has been approved for continuing education credits with SHRM and ATD. Vistage, the largest CEO advisory group on the planet, has invited us to train over 15 groups around the US, this past year. The University of South Carolina is launching the Read Emotions training experience in it's adult education offerings the fall of 2020.
It is important to know what someone is thinking and feeling
when your goal is to build constructive relationships through leading, coaching, selling or hiring. People often attempt to suppress their emotions. But there is "leakage," known as micro expressions, which occur in 1/2 of a second. In this unique and highly interactive communication program, you will experience a special video tool and hands-on coaching to help you increase Emotional Intelligence and influence, as you learn to spot these emotions.
These potent skills are based on 40+ years of research by Dr. Paul Ekman. In the past, training has been kept to law enforcement and security firms. Hollywood embraced this this science when Lord of the Rings embedded it in animated characters to win the Academy Award for Visual Effects (shout out to my friend Remington Scott who led that team).
Training the ability to read emotions has now been re-designed for business professionals.
This experience is thorough, practical, life-changing and career-enhancing. You'll learn to think of your emotional life in scientific terms and be able to identify others' emotions to work with them in a more constructive way.
Develop elite communication skills that strengthen critical relationships, enhance your performance, position yourself for career advancement and deliver greater results. Read Emotions training is a smart decision.
The Read Emotions experience utilizes a diverse blend of technology, interactive exercises (role play simulations) and unique coaching to equip business professionals with a new communication skill.
Sales Enablement
has four areas where the application of these skills has its highest value.
Leading — Sales Executive
Selling – Sales Professional
Coaching – Sales Manager
Hiring – Right Reps
Approved for Continuing Education – ATD and SHRM
You can now acquire information on other people which you have never had access to. How would that make a difference in your communication and influence skills?
For the white paper – A Superpower for Business Pros click here.